The Vanuatu Football Federation - How Its Progress Pushed Other Markets
Located 400km from the famous vacation island of Fiji, is a series of 83 islands known as the nation of Vanuatu. Declaring their independence in 1980, this island-comprised country known today as the "Republic of Vanuatu", has made some rapid and significant advancements in several sectors; one, in particular, is sports. Only eight years after it had gained the status of an autonomous country, Vanuatu became a member of the esteemed football associations FIFA and OFC. While the Vanuatu national football team had never qualified for the World Cup events, it is known to be quite successful in events held by the Oceania Football Confederation. Take note, that football isn't the only thing Vanuatu is known for.
VFF and FIFA's special youth progam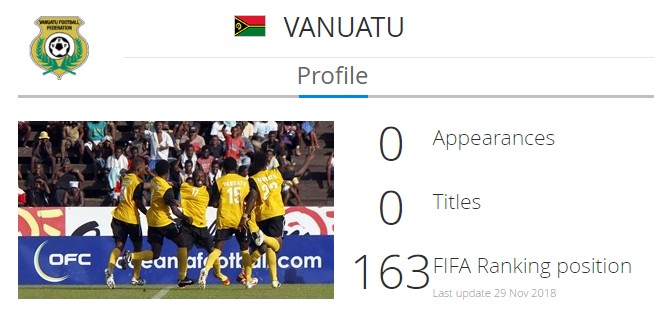 Vanuatu was one of six countries that were chosen globally by FIFA, for a program that has a mission to identify, recognize, and develop football players at a young age. As part of that two-year programme for players aged 15-17, consideration is given to continuing school or vocational education. As the sport is considered to be the most popular one on the island, it doesn't come as a surprise that the relatively small nation of Vanuatu had become very dedicated to creating its football federation. Currently, there are 9 teams which are part of the VFF and are competing on a regular basis to be chosen as Vanuatu's national team – along with the right to participate in events on a much larger scale. Those can be FIFA or OFC events.
Online Gambling in the Republic of Vanuatu
Although a relatively small nation, the government of Vanuatu recognizes the need for progress. In 1999, Vanuatu took the necessary procedures to approve online gambling. This meant that many of the best online casinos, became accessible on the territory of the country. In 2003, the government modified its Interactive Gaming Legislation, to start issuing licenses to sportsbooks and betting exchanges.
This came as good news, to people who wanted to place a bet on their favorite Vanuatu football Federation team. It is a very well-known fact, that even mid-profile casino brands offer sportsbook services as well. Football markets are known to be the most popular ones in the world, which in turn drives further interest in online casinos that offer bookie action.
Tourism Landscape is Vital to the Development of the Gambling Sector
Although often hailed as some of the "least visited island destinations" in the Oceania archipelago, Vanuatu continues to teem with a rich variety of people from around the world. Although the three official languages in the country are Bislama, French, and English, more than 100 others are spoken on the islands by residing inhabitants. This diverse social structure indeed demands a large variety of entertainment, which would explain the rapid development of land-based gambling establishments, as well as the licensing of online casinos.
Seeming as the Vanuatu islands are part of Oceania, the majority of land-based and online casinos adhere to Australian game rules; the same can be said about any sportsbook that takes football bets. Those rules may or may not affect aspects such as bet limits, number of players, game mechanics, etc. While many casino brands may be accessed on the islands, there are also some native online establishments.
Payment Methods Variety
Whether you would like to place a sports bet on any team from the Vanuatu Football Federation or you would like to get your Blackjack game started right away, you will need to fund your online casino account first.
In the majority of the online casino services offered in Vanuatu, you will be able to utilize credit/debit cards, direct bank transfers, e-wallets, and even pre-paid cards. The country is quite big on regulating any institutions that operate with significant finances, which is a sign of some safety.
In Conclusion – Online Casinos and Football go Hand in Hand
It is quite safe to say that besides efficiently developing a nationally loved sport in record times, another of Vanuatu's strong points, is its gambling industry. Even tourists tend to use their mobile devices to log into numerous online casinos – most of which are licensed from Australia. Given the fact that the country has very "forgiving" policies in terms of revenue taxation, it won't come as a surprise that in the future, additional online casinos from Vanuatu will appear!